Want to know what I think are the best neighborhoods in Pierce County, Washington?
Talking about the "best" neighborhoods in Pierce County, Washington or any given community is always fraught for a real estate agent. Real estate agents in the United States have a long and shameful history of steering and redlining. Tacoma and Pierce County are not excluded from that. For this reason I (and most real estate agents who want to be ethical) tend to stay away from recommending neighborhoods to clients. Instead we try to share resources and information about neighborhoods based on the criteria our clients share and offer resources for clients to research communities to their own satisfaction.
This is why I created the Neighborhood Guide to Tacoma and Pierce County on MoveToTacoma.com back in 2015. The idea was to give people access to information about communities sourced from the people who live there.
That said, I have lived most of my life in Pierce County since I was born here in 1979. So today I'm going to share all the neighborhoods and cities I've lived in in Pierce County and what I like (and a few things I don't like) about each one.
Again, these are places I've actually lived and my own personal pros and cons! Don't agree? Go make your own list and send it to me, I can't wait to read it!
Orting, Washington – Small country town, incredible mountain views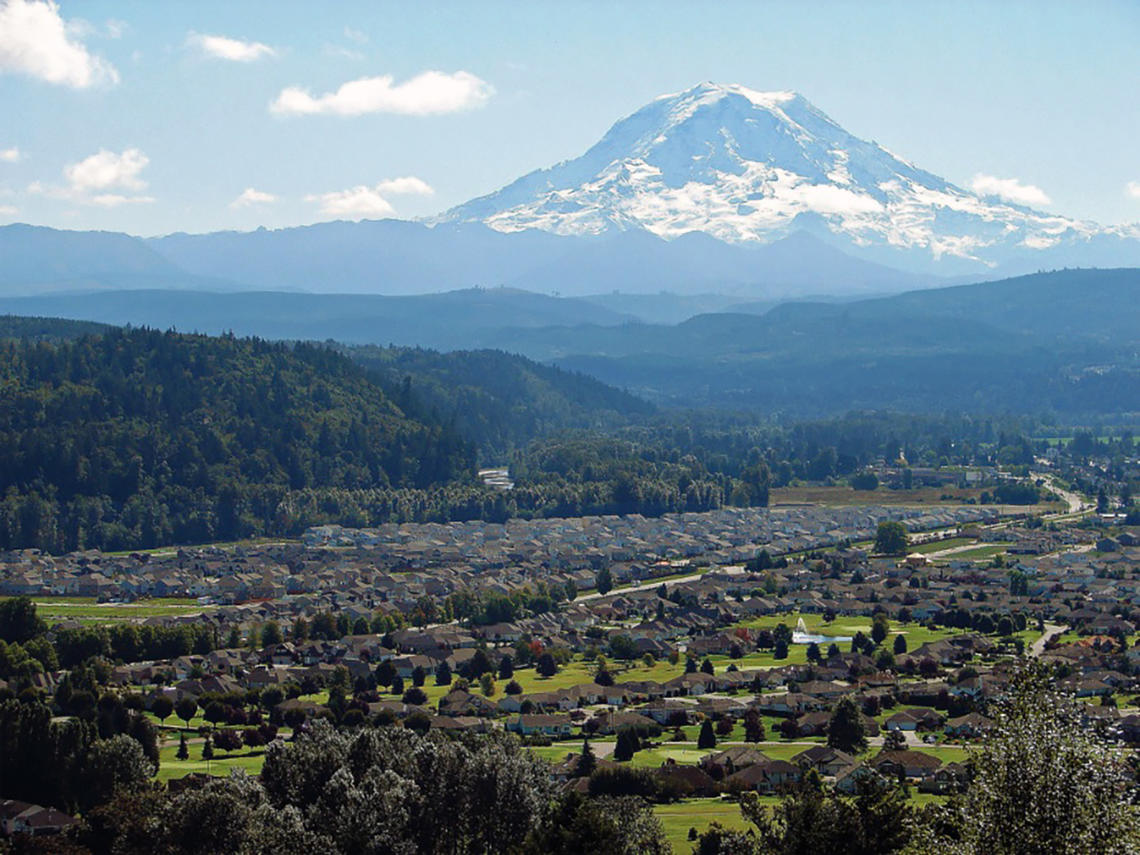 When I was brought home from the hospital my parents brought me to the tiny town of Orting. Orting is located about 45 minutes from Downtown Tacoma and an hour or so from Downtown Seattle. Orting has grown a lot in my lifetime, but it's still a small town with fewer than 10,000 people. Orting has it's own school district. Even after we moved away from Orting my grandparents lived there until they passed, so I spent a lot of time in Orting. Orting has lots of small shops. I particularly enjoy the park at the center of town and the shops and restaurants around the park. The annual Daffodil Parade with all it's floats and marching bands makes it's final stop in Orting, and in my opinion it's a great place to watch the parade with a little less fuss and stress!
Median Home Price: As of May 2022 homes in Orting are selling for a median price of about $550,000. Homes in Orting spend an average of 16 days on the market before selling.
Pros: The views for sure! Orting is located in a valley approaching Mt. Rainier, and incredible views of the mountain are all around.
Cons: I mean, I suppose living under Mt. Rainier is a con. Orting is located in a lahar zone so someday if Mt. Rainier blows Orting is in a danger zone. You can learn more about this on the City of Orting's Lahar Preparedness Page.
I lived in the suburbs of South Hill, just off Meridian. South Hill is full of planned communities and housing developments from pretty much every era of suburban development. There's also new construction and new housing developments as well. South Hill has its own mall, (The South Hill Mall) and is part of the Puyallup School District. It takes about 30 minutes to get from South Hill to downtown Tacoma, and about an hour to get to Downtown Seattle from South Hill. If you want to learn more about South Hill and other nearby neighborhoods check out our blog post, "Neighborhoods in and around Puyallup."
Median Home Price: As of May 2022 homes in South Hill are selling for a median price of $550,000. Homes in South Hill spend an average of 16 days on the market before selling.
Pros: If you like the suburbs you'll like South Hill. Housing developments, a mix of local and chain restaurants, every kind of supermarket and big box store for shopping, and a mall. My friends that love suburbs think South Hill is great, and South Hill has some neighborhoods with incredible views of Mt. Rainier and the Puyallup and Orting Valleys.
Cons: Traffic. I mean, it's no secret at all. Meridian traffic is notorious. The first thing you learn when you move to South Hill is all of the "back ways" around traffic and different routes to get where you're going. Driving and managing life in traffic is the major con of most suburbs, and South Hill is absolutely no different.
I lived on the border of Spanaway and Graham in my teen years, and moved back to Spanaway when I bought my first house. Spanaway is located about a half an hour from Downtown Tacoma and an hour from Downtown Seattle. Spanaway is one of the best neighborhoods in Pierce County Washington for affordability. Not only is it a little easier to buy your first home in Spanaway, but homes in Spanaway typically also come with more property than homes closer to Tacoma.
Spanaway has a lot of options for recreation. There's Spanaway Lake, Spanaway Lake Golf Course, Sprinker Recreation Center, and more.
Median Home Price: As of May 2022 the median home price in Spanaway is $495,000. Homes for sale in Spanaway are typically on the market for 16 days before selling.
Pros: The big pros of Spanaway are affordability and property. It's easier to find an affordable home with some land in Spanaway than most other parts of Pierce County.
Cons: Spanaway is still not its own city. Spanaway is unincorporated Pierce County and lacks the cohesian of some of the suburban cities in Pierce County. Spanaway relies on Pierce County for services and infrastructure which means less local control. That said, this is only a con if you care about stuff like that, and a lot of folks who live in Spanaway just don't!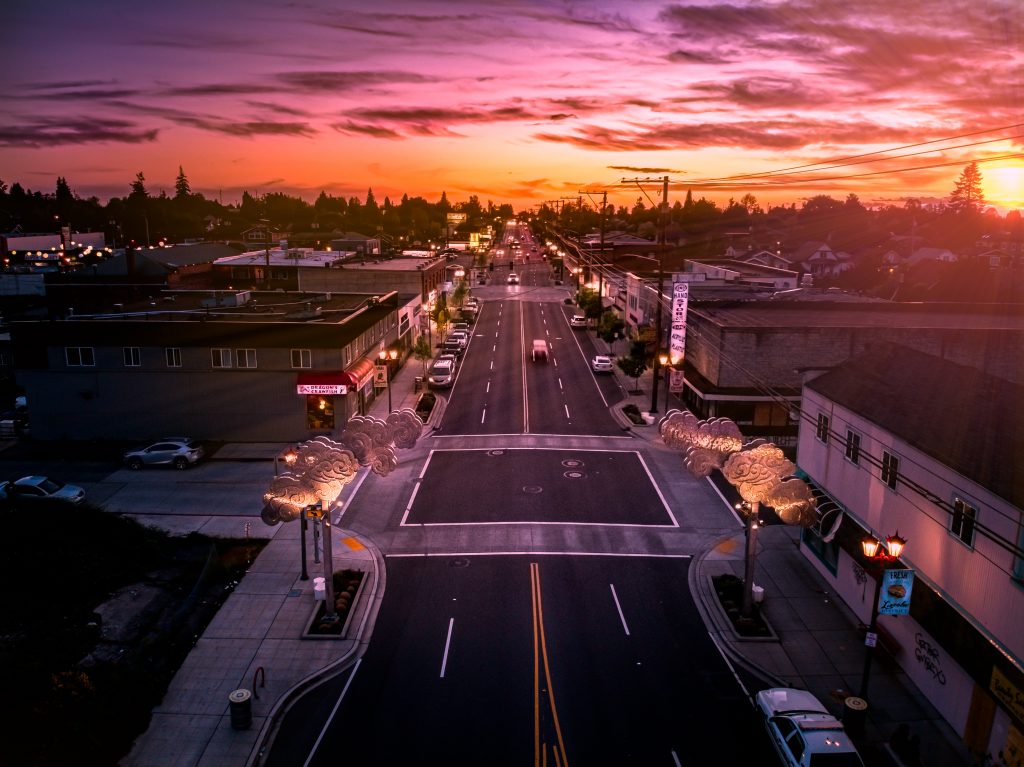 I lived in the Lincoln District in a craftsman home pretty close to 38th Street. Before that I lived off of D Street near Pacific Avenue. I loved walking to the local shops and getting my groceries at the International Supermarkets in the neighborhood. I also LOVED being so close to Downtown Tacoma while living in a house and having a garage. Some of the most beautiful streets in Tacoma are in the Lincoln District, especially in the fall. The Lincoln district has some incredible historic homes. It's also a great location for commuting to pretty much anywhere. It's 5 a minute drive to Downtown Tacoma, I would even walk there when it wasn't raining. It's 45 minutes to Downtown Seattle and 20 minutes drive to JBLM. To learn more about neighborhoods around the Lincoln District check out our blog post, "Neighborhoods in an around South Tacoma."
Median Home Price: Homes in the Lincoln District are selling for a median price of $425,000 in an average of 11 days as of May 2022.
Pros: There are so many historic homes in the Lincoln District, especially craftsman homes. The Lincoln District is one of the more affordable neighborhoods in Tacoma (and Pierce County in general). Lincoln is a great place for a person looking for a home with character to find a home that is more affordable.
Cons: Both times I lived in Lincoln I ended up close to busy streets (38th Street and Pacific Avenue). This is part of living in a city and being in a close-in neighborhood. If you end up close to one of the busy streets like I was just be ready for the noise and extra bother that that can sometimes bring.
This is without a doubt the neighborhood in Tacoma I've lived in the most. That said, if it isn't already coming through, while I've lived in the suburbs I am a city person for sure! What I loved about living in St Helens (also referred to as the Theater District) is it's location between Downtown Tacoma and the Stadium District. It has access to the Link Light Rail, is home to Tacoma's art house movie theater The Grand Cinema, and is full of restaurants, bars, a bakery, and local shops. While there are some townhomes here, the majority of homes in this neighborhood are either condos or apartments. If you want to learn more about buying condos or lofts in Tacoma check out this article, "How to buy a loft, condo, or townhouse in Downtown Tacoma."
St Helens Median Home Price: Homes in St Helens (mostly condos) are selling for about $525,000 after 17 days on the market as of May 2022.
Pros: Restaurants, nightlife, two LGBTQ bars, antique shops, city hall, a bakery, and the movies!
Cons: It can be noisy. People partying at night. The Pride Block Party once every summer. Things banging around the Port of Tacoma ringing up the hillside. I mean, it's a downtown. Be ready for that!
Stadium District – Historic homes, local businesses, incredible views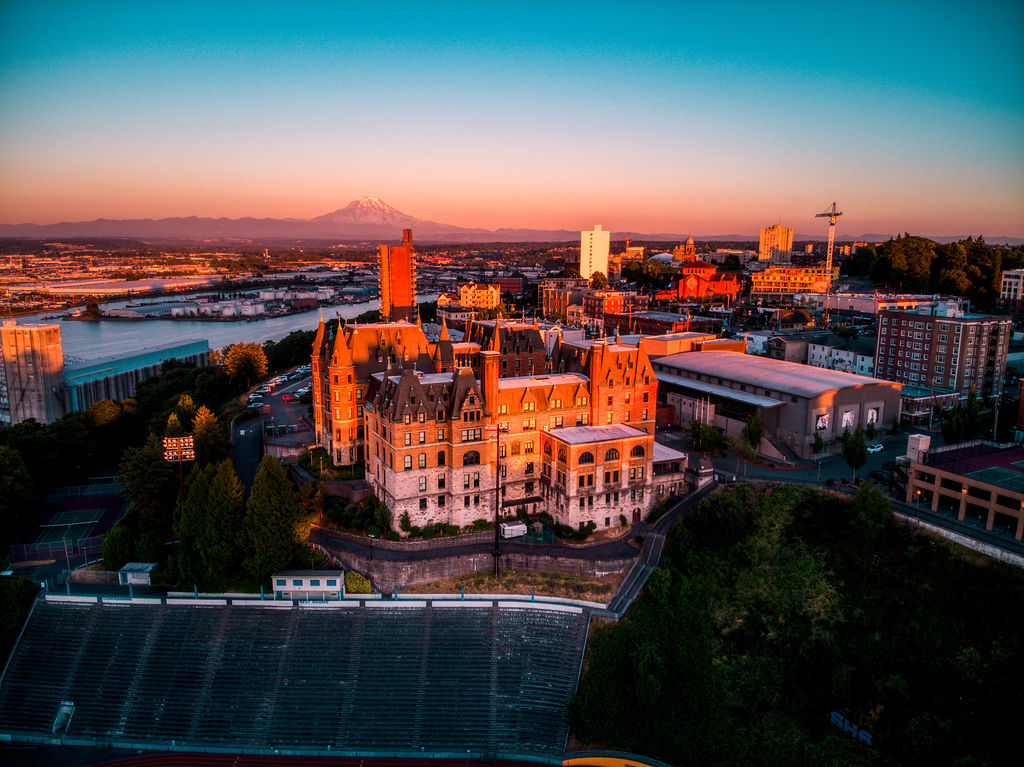 Stadium District Median Home Price: The median sales price for condos in Stadium as of May 2022 is $525,000. Condos in Stadium sell after an average of 24 days on the market. The median sales price for single family homes in the Stadium District is over $1,000,000 as of May 2022.
Pros: Stadium is such a great mix of mansions, condos, apartments. There are few neighborhoods in Tacoma that have managed density as well as Stadium, and that might be because many of the apartments were built over 100 years ago. The neighborhood is historic and thriving- with views for days.
Cons: It's expensive. Darned expensive. One of the most expensive neighborhoods in Tacoma and in Pierce County overall.
So what are the best neighborhoods in Pierce County, Washington… for you?
Look, obviously I haven't lived everywhere in Pierce County. I've never lived across the narrows bridge in the Gig Harbor or Key Peninsula area and I've never lived further east in places like Bonney Lake or Sumner. Even living here my whole life there's a lot I haven't tried yet. But I wanted to make a list of the places I've liked the best to help you get started.
If you're interested in researching neighborhoods across Pierce County in more detail check out the Neighborhood Guide to the area with the clickable map.
Resources for finding the best place to live in Pierce County:
The Most Expensive Neighborhoods in Pierce County
The Most Affordable Neighborhoods in Pierce County
Neighborhoods in Pierce County Near JBLM
Best Neighborhoods in Pierce County for Commuting to Seattle
How to find the best real estate agent in Tacoma for you
Guide to Moving to Pierce County in 2022